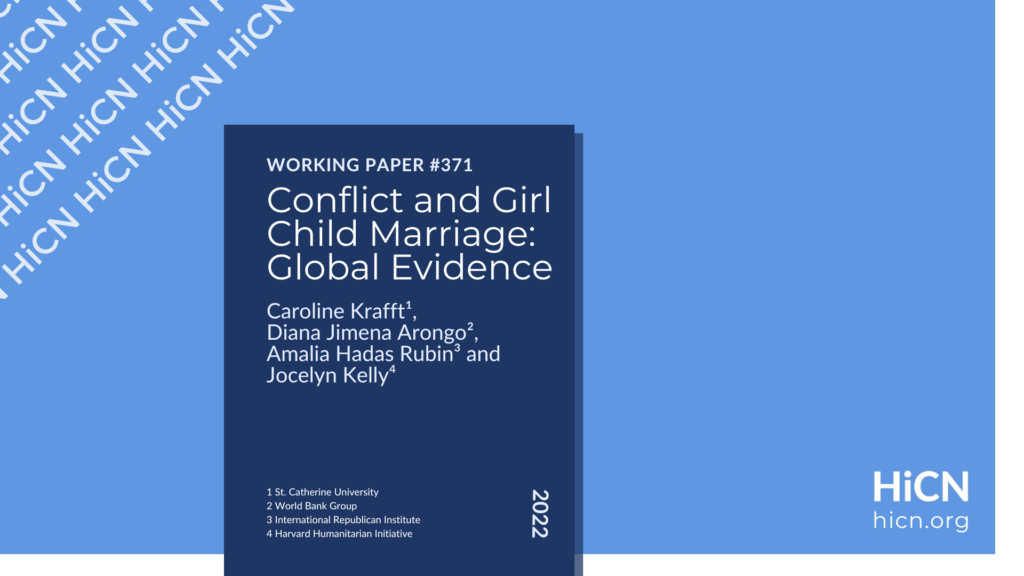 Child marriage has lasting negative health, human capital, and welfare consequences. Conflict
settings are characterized by a number of complex changes that can potentially increase the risk
of child marriage, but there has been limited population-based research directly estimating the
relationship between conflict and child marriage. Using Demographic and Health Survey data
from 19 conflict-affected countries, this paper estimates the relationship between conflict and
child marriage. It identifies the relationship based on variation over space and time in conflict
intensity. The findings are mixed; in some countries conflict is associated with an increase in
child marriage, in others it is associated with a decrease in child marriage, and in some cases
there is not a statistically significant relationship. This overall pattern is robust to a variety of
approaches to measuring conflict. These findings underscore how efforts to reduce child
marriage need to consider conflict as a potential risk factor, but also one that is likely to interact
with local economic, social, and demographic environments.
Funding note: This work is part of the program "Building the Evidence on Protracted Forced
Displacement: A Multi-Stakeholder Partnership." The program is funded by UK aid from the
United Kingdom's Foreign, Commonwealth and Development Office (FCDO), it is managed by
the World Bank Group (WBG) and was established in partnership with the United Nations High
Commissioner for Refugees (UNHCR). The scope of the program is to expand the global
knowledge on forced displacement by funding quality research and disseminating results for the
use of practitioners and policy makers. This work does not necessarily reflect the views of
FCDO, the WBG or UNHCR.